Hazrat Makhdoom Shaah Safi Abdus Samad rahmatullāhi alaihi :
♦♦♦♦♦♦♦♦♦♦♦♦♦♦♦♦♦♦♦♦♦♦
Laqab :
‾‾‾‾‾‾‾‾
Taajdaar e Safipur.
****************
Aap ke waalid ka naam Hazrat Maulana Ilm-ud-deen bin Maulana Zain-ul-islaam hai.
Aap Hazrat Uṡmaan Ghani radiy-Allāhu ta'ala anhu ki nasl se hain.
Aap ke waalid Suharwardi buzurg the.
Aap ke pardaaada Hazrat Shaah Akram Suharwardi rahmatullāhi alaihi ek Hindu Raaja ke zamaane me Saa'ipur qasbe me tashreef laaye. Un ki tashreef aawari ki barkat se is hindu ilaaqe me Islaam ka noor phaila aur musalmano ki aabaadi hui.
Us waqt unho ne peshingoi ki thi ke 'Hamari aulaad me ek ladka hoga aur aane wale waqt me ye jagah us ke naam se mashhoor hogi.' Chunanche Makhdoom Safi naam se ye jagah 'Safipur' ke naam se mash'hoor hui.
****************
Aap ne ibtidai ta'aleem apne waalid se haasil ki.
Phir Khairabaad jaakar Madrase me Hazrat Shaah e wilaayat Makhdoom Shaikh Sa'ad-ud-deen Khairabadi rahmatullāhi alaihi se majeed ta'aleem haasil ki.
Aap apne ustaad Makhdoom Shaikh Sa'ad-ud-deen Khairabadi ki bahot khidmat aur farmaan bardaari karte the.
Jab ustaad ne Aap se farmaaya ke 'Tum baawarchi khaane me mat khaaya karo. Hamare saath khaana khaaya karo.' To aap ne roz ustaad ke saath khaana khaana shuru kar diya aur jab tak ustaad na aate aap bhuk ki sakhti bardaasht karte.
****************
Bai'at ke baad Hazrat Makhdoom Shaikh Sa'ad-ud-deen rahmatullāhi alaihi ke farmaan par Aap Chilla kashi ke liye baithe to teesre hi roz se fatah wa kushaadgi ke darwaaze khul gaye aur tamaam uloowiyat aur sifliyat Aap par munkashif ho gaye. Aur tarakki karke maqamaat e wilaayat kea ala darje par pahunch gaye.
Us ke Baad Hazrat Makhdoom Shaikh Sa'ad-ud-deen ne aap ko khilaafat ata farmaai to aap tamaam khulfa par sabqat haasil karke 'Assabiqun naas saabiquna ulaaikal muqarrabun' ke maqaam par pahunch gaye.
****************
Karaamat :
‾‾‾‾‾‾‾‾‾‾‾‾‾
(1) Humaayun baadshaah jab Lucknow aaya to Hazrat ki shohrat sunkar us ne aap ki ziyarat ka sharf haasil karna chaaha. Jab aap ne suna ke Humaayun baadshaah mujh se milne ke liye aana chaahta hai to aap ne farmaaya 'Gadhe ne maari laat, Humaayun jaa pada Gujarat.'
Humaayun jab Lucknow se Safipur ke liye chala to Safipur ke qareeb pahunchkar use gehri nind aa gai. Us ki sawaari Safipur ke qareeb baahar se hoti hui Fatehpur Choraasi pahunch gai. Jab bedaar hua to puchha to bataaya gaya ke 'Safipur shareef bahot pehle aage guzar gaya. Ye Fatehpur Choraasi hai.' Itne me khabar mili ke Gujarat me kuchh shorish ho gai hai. Waha baadshah ka pahunchna bahot zaroori hai. Chunanche Gujarat Rawaana hote waqt Humaayun ne kaha 'Shaayad Hazrat Makhdoom Safi ko meri haazri manzoor nahi.' Lihaaza adaban apne wazeer ke saath 2 kaneeze aur nazraana Hazrat ki khidmat me rawaana kiya.
Jab wazeer un kaneezo aur nazraana wagairah ko lekar aap ki khidmat me pahuncha to aap wuzu kar rahe the. Un kaneezo ne jab aap ke jamaal ka mushaahida kiya aur aap ne un par nigaah e inaayat farmaai to ye asar hua ke un kaneezo ne usi waqt apne qeemti libaas aur zewraat wagairah utaarkar fuqara me taqseem kar diye aur saada libaas pahenkar ek kaneez khaanqaah me paani bharne me lag gai aur ek jhaadu dene me lag gai. Aur umr bhar ye dono kaneeze khaanqaah ki khidmat karti rahi. Aur inteqaal ke baad dono ko khaanqaah me hi dafn kiya gaya.
Wazeer jab rukhsat hone laga to aap ne nazraane waapas kar diye aur apni chataai ke musalle ke chand tinke use de diye aur farmaaya 'Humaayun ko de dena.' Humaayun ko jab aap ke ataa kardaa musalle ke ye tinke mile to us ne kaha ke 'Is tabarruk ki barkat se in sha Allāh Gujarat me hamari fateh hogi.' Chunaanche aisa hi hua.
(2) Ek zaeefa Hazrat ki aqeedat mand thi. Kisi zaalim haakim ne un ke ghar par qabza karke apne ghar me mila liya. Zaeefa ne aap ke paas fariyaad ki. Aap ne 3 martaba haakim ko paigaam bheja ke 'Zaeefa par zulm na kar. Us ke makaan ko chhod de.' Magar wo hukoomat ke guroor me na maana. Aapbne apne paan ka ugaal us zaeefa ko dekar farmaaya ke 'Us zaalim haakim ke makaan par is paan ke ugaal ko phenk dena.'
Hazrat Makhdoom Shaikh Sa'ad-ud-deen ne kashf ke zariye ma'aloom kar liya aur zaeefa ko bulakar wo paan ka ugaal us se le liya. Aur khud us haakim ke makaan par tashreef le gaye aur farmaaya ke 'Tune mere Safi ki sifaarish ko na maana. Ye ugaal unho ne is ko diya hai.'
Ye farmakar Hazrat Makhdoom Shaikh Sa'ad-ud-deen ne wo ugaal ghaas par daal diya. Ghaas jalkar raakh ho aai aur us jagah ki zameen kai baanso (bamboo) ke baraabar neeche gehraai me dhans gai. Us ke baad farmaya 'Agar ye zaeefa mere Safi ka ugaal tere ghar par daal deti to tera makaan aadmiyo samet jalkar raakh ho jaata aur sab ke sab zameen me dhans jaate.' Ye sab dekhkar wo haakim sharminda hua zaeefa Se muafi maangi aur zameen waapas kar di.
Jis jagah ghaas jalkar raakh hui aur zameen dhans gai thi wo jagah 'Safi Gaar' Ke maam se mash'hoor hai.
(3) 'Makhzan ul Asraar Fi Salasilul Kibaar' ke musannif Hazrat Shaikh Muhammad Aarif apni Kitaab me likhte hain ke 'Mere daada Shaikh Kamaal-ud-deen ko Hazrat Makhdoom Safi rahmatullāhi alaihi ne Khirqa ata kiya tha.
Hazrat Shaikh Muhammad Aarif bayaan karte hain ke 'Mere waalid ek martaba apne gaanv se Safipur ke liye asr ke waqt rawaana hue. Raaste me ek taalaab aaya jo khushq pada hua tha. Waha pahunche to 2 bhediye saamne aa gaye. Mere waalid ne kurte ke daaman ko kamar se lapet liya aur 2 dhele utha liye ke un se bhediyo ko maarenge. Lekin jab dono bhediye qareeb aa gaye to un ko khauf hua ke ek ko maarunga to dusra mujhe nahi chhodega. Is khayaal se foran pukaar uthe 'Ya Makhdoom Safi, Madad kijiye.'
Jaise hi aap e madad ke liye pukaar ke dekha ki Hazrat Makhdoom Safi asaa liye hue maujood hain aur mere waalid ko hifaazat se ghar tak pahuncha diya aur farmaaya ke 'Khuda ko sonpa.'
Dusre din mere daada ne kuchh nazrana bheja to Hazrat Makhdoom Safi ne muskura kar farmaaya 'Shaikh Kamaal-ud-deen ne meri mazdoori bheji hai.'
(4) Safipur me ek kunva jis ka naam 'Mithvaa' hai. Jab wo kunva tayyaar ho gaya to us ka paani khaara tha. Logo ne aakar Hazrat se arz kiya. Aap ne apne paan ka ugaal ata farmaaya. Use us kunve me daala gaya to paani intehaai meetha ho gaya.
****************
Hazrat Qutb e aalam Makhdoom Shaikh Sa'ad-ud-deen Khairabadi rahmatullāhi alaihi ke mureed aur khalifa hain.
Aap se 'Chishti Safawi' silsila jaari hai.
Aap ke khulfa :
(1) Hazrat Shaikh Shaah Bandagi Mubarak Jaajamwi
(2) Hazrat Makhdoom Sayyed Nizaam-ud-deen Allahdia Khairabadi
(3) Hazrat Shaikh Shaah Fazlullāh Gujarati
(4) Hazrat Shaikh Husain Muhammad Sikandarabadi
(5) Hazrat Shaikh Mubarak Sandilwi
(6) Hazrat Shaikh Mahmood Maanoo Jagwari
(7) Hazrat Shaikh Allāh-deh Janooli
(8) Hazrat Sayyed Hasan Muhammad
(9) Hazrat Shaikh Haaji Mandhani Aasyooni
(10) Hazrat Shaikh Jaan Saandhwi
(12) Hazrat Sayyed Taa-haa Bilgrami
(13) Hazrat Shaikh Pyaare Kanjwi
(14) Hazrat Shaikh Abul Fatah Aasyooni
(15) Hazrat Shaikh Jaanu Kakori
(16) Hazrat Sayyed Jayu Muhaani
(17) Hazrat Shaikh Abdul Ghani Fatehpuri
(18) Hazrat Shaikh Kamaal-ud-deen.
****************
Aap ka wisaal 18 Moharram 945 Hijri (June 1538 A.D.) ko hua.
Aap ka mazaar Safipur (Uttar Pradesh) me hai.
****************
ALLĀH ta'ala us ke Habeeb sallallāhu alaihi wa sallam ke sadqe me
Aur Hazrat Makhdoom Shaah Safi Abdus Samad rahmatullāhi alaihi aur tamaam Auliya Allāh ke waseele se
Sab ko mukammal ishq e Rasool ata farmae aur Sab ke Eimaan ki hifaazat farmae aur Sab ko nek amal karne ki taufiq ata farmae.
Aur Sab ko dunya wa aakhirat me kaamyaabi ata farmae aur Sab ki nek jaa'iz muraado ko puri farmae.
Aameen.
safipur ek aisa markaz hai.jahan k auliyaae kiram aur unki karaamaat mashhoor hai
i hope aap sab wahaan ki ziyaarat se sharfyaab hain.
allah tabarak w t'ala ne yahan bahot se ba karamat waliyaane kiram ko maboos farmaya 
yahan ek aise bhi wali hain jinka jism e athar abhi b takreeban 500 saal k arse se zameen par rakha hua hai. aapka naam peer syedna arif ali shsh hai magar aap bhulan shah k naam se mashhoor hain. yahan ki chand dargaah jo duniy bhar mein mashhoor hain 
*dargaah hazrat syedna makdoom shah safi (aap peer hain hazrat meer abdul wahid bilgirami k aur kya aap logon ko ye baat malooom hai k marahra mein silsilaye aaliya chishtiya safipur sharif se gaya hai. jab aala hazrat safipur sharif aaye to apne pair k angoothon se chale jab mureedeen ne aap se iska sabab daryaaft kiya to aap ne kahha k ye madinatul auliya hai yahan kis jagah kis wali mazar ho wllah o aalim. aur hazrat makdoom shah safi r.u.a. ki chaukhat pakd kar ye ashaar kahe
KAISE AAQAAON KA BANDA HOON 'RAZA'
BOLBAALE MERI SARKAARON K HAIN .
YAHAN AAPKE SARKAARON KEHNE SE MURAAD SARKAAR E SAFIPUR AUR SARKAAR E MARAHRA HAIN
#dargaah syedna hazrat mkdoom shah khadim safi muhammadi(aap hazrat syedna baqa ullah shah k peer e khurqa hain )
*dargaah hazrat syedna baqa ullah shah khadimi kareemi safwi (AAP SILSILAYE AALIYA BAQAIYAH K BAANI HAIN AAP HI KI NISBAT SE AAJ AAP KE MUREEDEEN BAQAI LIKHNE KA SHARAF RAKHTE HAIN.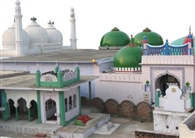 सफीपुर (उन्नाव)। मखदूम शाह सफी की मजार पर मंगलवार से जायरीनों का मेला लगेगा। आज से बाबा का तीन दिवसीय उर्स शुरू हो रहा है। देश ही नहीं विदेशों तक से लोग यहां दुआ मांगने आते हैं। हाजिरी देने वाले वालों में मुसलिम ही नहीं हिंदू भी होते हैं। ये सब एक ही कतार में खड़े होकर अपने पीर की मजार की सेवा में नजर आते हैं। इन्हीं पीर के नाम पर इस कस्बे का नाम भी साईपुर के स्थान पर सफीपुर पड़ा। कस्बे के मोहल्ला पीरजादगान स्थित मखदूम शाह सफी का अस्ल नाम ख्वाजा अब्दुल समद था। इनके वालिद मौलाना इतमुद्दीन उस्मानी व मां पीसी उम्मेखैर थी। इनकी पढ़ाई शाह मखदूम शेख साउद के पास खैराबाद में हुई। वहीं उनके पीर के हुक्म पर यह सफीपुर आए और इन्होंने दीनी व समाजी खिदमात को अपना जीवनचर्या बना लिया। बहुत कम समय में ही इनके करामातों को देख इनके मानने वालों की संख्या बढ़ती चली गई। मुगल शासक हुमायू से लेकर अंग्रेजी अफसर भी आपकी शान में अदब के साथ दर्शन कर अपने आपको धन्य मानते रहे। आपके परदा करने के उपरांत बनी मजार को लोगों ने अपनी आस्था का केंद्र माना और प्रति वर्ष होने वाले उर्स पर अपनी भागीदारी सुनिश्चित कर ली। मजार एकता का प्रतीक भी बनी यहां आने वाले मुरीदों में बड़ी संख्या हिंदू धर्म के लोगों की है। गरीब व अमीर की पहचान मजार के प्रांगण में असंभव है।