Name and Lineage: Hazrat Khwajah Allah Bakhsh Taunsvi son of Hazrat Khwajah Gul Muhammad son of Hazrat Khwajah Shah Muhammad Suleman Taunsvi son of Muhammad Zakariya son of Abdul Wahaab son of Umar son of Khan Muhammad رحمۃ اللہ تعالٰی علیہم.  
Birth: He was born in Taunsa Sharif in the month of Zul-Hijjah, in 1241 A.H/ 1826.  
Acquistion of Knowledge: Hazrat Khwajah Shah Muhammad Suleman Taunsvi handed over his grandson to Maulana Muhammad Ameen for acquiring religious knowledge. He taught the Persian literature and Arabic grammar (Sarf-o-Nahw) besides the holy Quran. Then he gave lesson of Hadith. Hazrat Peer Pathan himself gave him the inward training.
  Character and Qualities: He used to live in a splendid way in the beginning. When he held his real status, then he started wearing an old cap, blue waist piece (tehband) and ordinary dress. He got the love of prayer (Namaaz) and fast (Rozah) through the training of his grandfather since childhood. With the passage of time his inclination towards worship reached the end. He used to instruct to his disciples and devotees to keep away from all the kinds of bad faiths and misleading movements. When Mirza Ghulam Ahmed Qadiani started publicizing his beliefs, then he would strictly refute them by sitting on his place and he tried to awake the religious feelings of Muslim so that they might not inspire with this kind of misleading movements, although he(Mirza) did not claim of Nubuwwat (Prophethood) yet. He had good manners. Along with genealogical nobility and dignity, he attained the nearness of Almighty Allah by going the forefront in worship. Once, Hazrat Peer Mehar Ali Shah Golarvi رحمۃ اللہ تعالٰی علیہ said, "In the view of Khwajah Allah Bakhsh, people of world did not have the value equal to particle. He was very pro-poor. He quite despised the worldly people. We did not see or hear any saint like Khwajah Allah Bakhsh." May Almighty Allah grant them (contemporary successors) the privilege to follow the way of Auliya-e-Kiram رحمۃ اللہ تعالٰی علیہم . Ameen!  
Allegiance and Caliphate (Khilafat): When the last time of Hazrat Khwajah Muhammad Suleman Taunsvi came near, then he requested by placing head on the blessed feet of Khwajah Suleman, "I am not asking for anything but I want just pay the service of your devotees." After listening that a condition overwhelmed on Hazrat Sheikh and he said, "ونفخت فیہ من روحی", then he passed away.  
Demise: He passed away in 29 Jamadi-ul-Awwal 1319 A.H/ 13 September 1901 A.D. His shrine is in Taunsa Sharif.
امام العارفین حضرت خواجہ اللہ بخش تونسوی رحمۃ اللہ تعالیٰ علیہ سلسلۂ چشتیہ کے نیر تاباں حضرت خواجہ اللہ بخش تونسوی ابن حضرت خواجہ گل محمد بن حضرت خواجہ شاہ محمد سلیمان تونسوی ماہ ذوالحجہ (۱۲۴۱ھ/۱۸۲۶ئ) میں تونسہ شریف میں پیدا ہوئے دین تعلیم کے لئے حضرت خواجہ شاہ محمد سلیمان تونسوی نے آپ کو مولانا محمد امین کے سپرد کیا ۔ انہوں نے قرآن مجید کے علاوہ فارسی نظم اور عربی صرف و نحو کی تعلیم دی ، پھر حدیث کا درس دیا ، باطنی تر بیہ خود حضرت پیر پٹھان نے فرمائی۔ ابتدائی زمانہ میں آپ شاہانہ شان و شوکت سے رہتے تھے، جب اپنے اسلی مقام پر فائز ہوئے تو پرانی ٹوپی ، نیلا تہبند اور معمولی کپڑے زیب تن فرماتے تھے ۔ جدا امجد کے فیض تربیت سے نماز اور روزے کی محبت بچپن ہی میں حاصل ہوگئی تھی ۔ وقت گزرنے کے ساتھ ساتھ عبادت و ریاضت سے لگائو انتہا ء کو پہنچ گیا۔ حضرت خواجہ محمد سلیمان تونسوی آپ کے دینی جذبے سے بے حد خوش ہوتے تھے چنانچہ آپ نے اپنی حیار ظاہری ہی میں دلائل الخیرات شرف کا پڑھنا آپ کے سپرد کر دیا تھا اور یہ بھی فرمادیا تھا کہ شجروں پر ہماری طرف سے تم ہی دسخط کر دیا کرو ۔ حضرت خواجہ اللہ بخش نے اس فرمان پر یہاںتک عمل کیا کہ حضرت پیر پٹھان کے بعد بھی شجروں پر حضرت شاہ سلیمان کا نام ہی لکھا کرتے تھے (۱)[1] جب آفتاب تونسہ شریف حضرت خواجہ محمد سلیمان تونسوی قدس سرہ کے رد پوش ہونے کا وقت قریب آیا تو آپ نے حاضر ہو کر سر قدموں میں رکھ دیا اور عرض کیا:۔ ''میں آپ سے اوکچھ نہیں مانگتا ، صرف یہ چاہتا ہوں کہ آ کے فقیروں کے جوتے سیدھے کرتا رہوں۔'' یہ سن کر حضرت شیخ پر ایک کیفیت طاری ہوگئی اور فرمایا ونفخت فیہ من روحی اور جان جان آفریں کے سپرد کردی،شاہ غلام نظام الدین فرزند کالے صاحب نے حضرت خواجہ اللہ بخش کے سر پردستار بادھ کر انہیں سجادہ شیخ پر بھٹادیا[2] حضرت خواجہ اللہ بخش رحمہ اللہ تعالیٰ نے جدا مجد کی طرح پوری تندہی سے خلق خدا کی راہنمائی فرمائی اور سلسلہ کی اشاعت میں اپنی تما خدا داد صلاحیتوں کو صر ف فرمایا ۔آپ نے سجادہ نشین ہونے کے بعد ہندوستان کے مختلف شہروں کا سفر کیا اور بزرگان دین کے مزارات پر حاضری دی ، بیکا نیز میں ہزاروں لوگ آپ کے مرید ہوئے ۔ حضرت خواجہ حمید الدین ناگوری رحمہ اللہ تعالیٰ کے مزار پر حاضری دی اور دس روز اجمیر شریف میں قیام فرمایا ، یہاں بھی ہزاروں لوگ حلقہ ٔ ارادت میں داخل ہوئے ، پھر کشن گڑھ ، جے پور ، راجپوتا نہ سے ہوتے ہوئے دہلی پہنچے اور حضرت خواجہ قطب الدین بختیار کا کی ، حضرت خواجہ نصیر الدین چراغ دہلوی اور حضرت خواجہ فخر الدین قدست اسرارہم کے مزارات کے علاوہ سلسلہ چشتیہ کے دوسرے اولیاء کے مقبر پر بھی حاضری دی ۔ قیام دہلی کے دوران بہادر شاہ ظفر نے حاضر ہو کر شرف قد مبوسی حاصل کیا ، بڑے بڑے امیر کبیر بھی آپ کی قد مبوسی کے لئے حاضر ہوئے اور محلات کی بیگامت مرید ہوئیں[3] مرزا غلام احمد قادیانی نے جب اپنے عقائد کی تشہیر شروع کی تو آپ نے اپنی جگہ بیٹھ کر نہایت سختی سے تردید فرمائی اور کوشش کی کہ مسلمانوں کا دینی احساس بیدار ہو جائے تاکہ اس قسم کی گمراہ کن تحریکوں سے متاثرہ نہ ہوں ، حالانکہ ابھی تک مرزاجی نے نبوت کا دعویٰ نہیں کیاتھا [4] آپ کو تعمیرات سے بہت دلچسپی تھی ، آپ کی بنوائی ہوئی عمارات شہر کے تقریباً نسف حصہ میں پھیلی ہیں ، ان عمارا ت میں زیادہ تر مساجد ، مدارس ، کنوئیں اور سرائیں ہیں۔ آپ بلند اخلاق کے مالک تھے ، ایک دفعہ آپ کے دربار میں حاضر ہونے والا آپ کے اخلاق حمیدہ کے انمٹ نقوش دل میں لے کر جاتا تھا ، مسلمان تو مسلمان ہندو تک آپ کے اخلاق عالیہ سے مستفید ہوتے تھے۔ حضرت خواجہ شمس العارفین سیالوی کے حضرت خواجہ اللہ بخش تونسوی سے برے مخلصانہ تعلقات تھے ، ایک دفعہ حضرت شمس العارفین نے ان کے بارے میں فرمایا:۔ ''انہوں نے نسبی شرافت و کرامت کے ساتھ ساتھ عبادت دریاضت میں سب سے آگے بڑھ کر قرب الٰہی حاصل کیا'' آپ کی تین فضیلتیں بہت ہی نمایاں تھیں :۔ ۱۔ آپ نے عرب شریف سے ایک قاری صاحب کو بلا کر ا پنے مکان پر ٹھہرا یا تاکہ علاقہ کے لوگ قرآ کی قراء ت کی تصحیح کرلیں ، چنانچہ بے شمار فاع فیض قرآنی سے مستفیض ہوئے ۔ ۲۔ ۱۲۹۹ھ میں زیارت حرمین شریفین کے لئے گئے تو پچیس افراد آپ کے ہمراہ تھے ، اس سفر میں آپ نے اپنے رفقاء اور حرمین طیبین کے خدام پر ساٹھ ہزار روپے صرف فرمائے ۔ ۳۔ حضرت خواجہ محمد سلیمان تونسوی قدس سرہ کے وسال کے بعد بہت سے لوگوں کو تشویش تھی کہ مریدین کی تربیت کون کرے گا اور وابستگان آستانہ کی ضروریات کا انتظام کون کریگا جب حضرت خواجہ ؒلہ بخش شجادہ نشین ہوئے تو وہ حضرت شاہ محمد سلیمان تونسوی کی توجہ سے تمام اوصاف میں سب سے سبقت لے گئے:۔ ''پس چوں دریں وقت بنظر غوبہ بنیم معلوم میگر دد کہ ظہور حضرت خواجہ تونسوی اکنوں شدہ است ۔ سبحان اللہ ! چنیں سجادہ نشین از سجاد گان پیش بظہور نا مدہ باشد [5] حضرت پیر مہر علی شاہ گولڑوی قدس سرہ نے ایک مرتبہ فرمایا:۔ ''خواجہ اللہ بخش صاحب کی نظر میں اہل دنیا کی ذرہ برابر وقعت نہ تھی ، آپ بے حد غریب نواز تھے ، دنیا دوروں کو بہت حقیرجانتے تھے، خواجہ اللہ بخش جیسا کوئی فقیر دیکھنے سننے میں نہیں آ یا ۔''[6] آپ کے تین فرزند تھے ، حضرت خواجہ حافظ محمد موسیٰ حضرت خواجہ حافظ احمد اور حضرت خواجہ حافظ محمود رحمہم اللہ تعالیٰ آپ کے مریدین اور معتقدین حد شمار سے باہر ہیں شمس العلماء مولانا عبد الحق خیر آبادی آپ ہی کے مرید تھے۔ ۲۹ جمادی الاولیٰ،۱۳ ستمبر (۱۳۱۹ھ /۱۹۰۱ئ) کو حضرت خواجہ اللہ بخش تونسوی رحمہ اللہ تعالیٰ کا وصال ہوا ، تاریخ وصال یہ ہے: چراغ جہاں بجھ گیا ہے[7]   [1] خلیق حمد نظامی ، پروفیسر ، تاریخ مشائخ چشت ، مطبوعہ دارالمؤ لفین ، اسلام آباد ، ص : ۷۱۹ [2] خلیق احمد نظامی ، پروفیسر ، تاریخ مشائخ چشت ، مطبوعہ دارالمؤ لفین ، اسلام آباد ، ص : ۷۱۸ [3] ایضاً ، ص: ۷۲۰ [4] ایضاً ، ص: ۷۲۲ [5] محمد سعید سید ، مولانا : مرأ ۃ العاشقین ، مطبوعہ مصطفائی ، لاہور ۱۳۰۲ھ ، ص : ۲۲۵یا۲۲۷ [6] خلیق احمد نظامی ، پروفیسر ، تاریخ مشائخ چشت،ص ۷۲۱ بحوالہ ملفوظات طیبہ، ص۱۴۲ [7] ایضا ً ص : ۷۲۳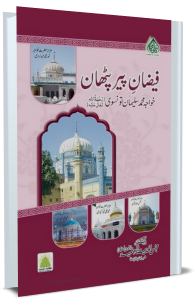 khwaja-sulaiman-taunsvi
Hazrat Khwaja Shaah Sulaimān Taunswi rahmatullāhi alaihi :
♦♦♦♦♦♦♦♦♦♦♦♦♦♦♦♦♦♦♦♦♦♦♦♦♦

Alqaab :
‾‾‾‾‾‾‾‾
Peer Pathaan, Shaahbaaz-e-Tareeqat.

****************
Aap ki wilaadat 1184 Hijri (1770 A.D.) me hui.

Aap ke waalid ka naam Hazrat Zakariya Khan bin Abdul Wahhaab hai.

Aap Balochistan ke Jafar Pakhtun qabeele se ta'alluq rakhte hai.

****************
Aap ki umr 4 saal thi tab Aap ke waalid ka inteqaal hua.
Is ke baad Aap ki waalida ne Aap ki parwarish aur ta'saleem o tarbiyat ki.

****************
Jab Aap Kot Miththan me qayaam pazeer the tab Hazrat Noor Muhammad Maharwi Uch tashreef laaye. Aap ko jab pata chala to aap Uch shareef jaakar un ki khidmat me haazir hue. Aur 16 saal ki umr me Hazrat se bai'at ki.

Aap apne Peer o murshid ke paas Mahar Shareef tashreef le jaate.
Aap ne Hazrat se Tasawwuf aur sulook ki ta'aleem haasil ki.
22 saal ki umr me Hazrat ne Aap ko khilaafat ata farmai.

Aap Hazrat ke farmaan par Taunsa tashreef laakar muqeem hue.

Aap Ghauṡ e zamaan aur Muqtada e Arbaab e Yaqeen the.

****************
Karaamat :
‾‾‾‾‾‾‾‾‾‾‾‾‾‾
Ek saudaagar Hazrat ka mo'ataqid tha. Wo Hindustan maal bechne ke liye aata aur jab rawaana hota to aap ki khidmat e ba-barkat me haazir hota tab nazraane pesh karta, aap se dua karvata aur chala jaata.
Ek martaba wo saudaagar aap ki khidmat me haazir hua tab us ke saamne bahot sa maal bataur nazraane aaya. Ye dekhkar us ko khayaal aaya ke Ye langar wagairah in nazraano ki wajah se chalte hain. Agar yaha khaanqaah me koi nazraane na de to ye sab band ho jaaye.

Aap us saudaagar ke dil ke is khatre se aagah ho gaye. Aap ne ek waaqia bayaan farmaya ke 'Sultaan Ghyaas-ud-deen ko aisa khayaal aaya ke Hazrat Khwaja Nizaam-ud-deen Auliya ki khaanqaah ka saara intazaam aur langar wagairah humare nazraano se chalta hai. To us ne aap ko nazraane na dene ka elaan karwa diya. Jab Khwaja Nizaam-ud-deen Auliya ko ye pata chala to aap ne hukm diya ke khanqaah aur langar wagairah ke intazaam me rozaana jitna kharch hota hai us se dugnaa kharch karo. Ek taak ki jaanib ishaara karte hue khaadim se farmaaya ke Jitni raqam ki zaroorat ho us taak se le liya karo.'

Waaqia bayaan karne ke baad aap ne saudaagar ko hujre me apna musalla laane ke liye bheja. Jab us ne musalla uthaaya to dekhkar heratzadaa reh gaya ke Hazrat ke musalle ke neeche ek dariya beh raha hai aur us ki 3 dhaare hain, Ek dhaar ashrafi ki, ek dhaar rupiyo ki aur ek dhaar jawahiraat ki. Us saadagar ke haath se musalla gir gaya. Hujre se baahar aaya aur aap ki baargaah me haazir hokar muafi talab karne laga.

****************
Aap Hazrat Khwaja Noor Muhammad Maharwi rahmatullāhi alaihi ke mureed aur khalifa hain.

Aap se '(Chishti Fakhriya) Sulaimāni' silsila jaari hai.

Aap ke khulfa :
(1) Hazrat Khwaja Shams-ud-deen Muhammad Sialwi rahmatullāhi alaihi,
(2) Hazrat Khwaja Haafiz Muhammad Ali Shaah Khairabadi rahmatullāhi alaihi,
(3) Hazrat Khwaja Sayyed Haafiz Bahaadur Ali Shaah urfe Daada Miyan Sarkaar rahmatullāhi alaihi (Jabalpur),
(4) Hazrat Khwaja Haaji Najm-ud-deen Muhammad Sulaimāni rahmatullāhi alaihi,
(5) Hazrat Sharf-ud-deen Sauntri rahmatullāhi alaihi.

****************
Aap ka wisaal 7 Safar 1267 Hijri (1850 A.D.) ko hua.

Aap ka mazaar Taunsa (Punjab, Pakistan) me hai.

****************
ALLĀH ta'ala us ke Habeeb sallallāhu alaihi wa sallam ke sadqe me
Aur Hazrat Khwaja Shaah Sulaimān Taunswi rahmatullāhi alaihi aur tamaam Auliya Allāh ke waseele se
Sab ko mukammal ishq e Rasool ata farmae aur Sab ke Eimaan ki hifaazat farmae aur Sab ko nek amal karne ki taufiq ata farmae.
Aur Sab ko dunya wa aakhirat me kaamyaabi ata farmae aur Sab ki nek jaa'iz muraado ko puri farmae.