The tomb of Hamza Sayyid al-Shuhada and other martyrs of the Battle of Uhud before being destroyed by Wahhabis in 1925.
Hamzah the brave, uncle of the Holy Prophet (S.A.W.):
There have been a number of brave and self-sacrificing officers and strong and powerful champions in the army of Islam but the bravery of Hamzah bin Abdul Muttalib is recorded in the pages of history and in fact constitutes the golden leaves of the history of the battles of Islam.
Muhammed Mustafa, the Messenger of Allah (may Allah bless him and his Ahlel-Bayt), though safe under the protection of his uncle, Abu Talib, was not immune from harassment by the infidels. Whenever they found an opportunity for baiting him, they didn't miss it. On one occasion, Abu Jahl found him alone, and used much offensive and vulgar language toward him. That same evening when his uncle, Hamzah bin Abdul Muttalib, came home from a hunting expedition, his slave-girl recounted to him the tale of Abu Jahl's gratuitous insolence toward him (Muhammed), and the latter's forbearance, of which she had been an eye-witness.
Hamzah was a warrior, a hunter and a sportsman, and was little interested in the day-to-day affairs of the city. But Abu Jahl's conduct toward his nephew so roused his anger that he seized his bow, went into the assembly of the Quraysh where he (Abu Jahl) was reviewing the events of the day to his compeers, struck him at his head with his bow, causing it to bleed, and shouted: "I too have become a Muslim."
This was a challenge to Abu Jahl but he figured that silence was the best part of valor, and did not tangle with Hamzah, even restraining his friends who wished to rise in his defense.
Hamzah, the uncle of the Prophet of Islam, was one of the bravest men of Arabia and a well-known officer of Islam. It was he, who insisted earnestly that the army of Islam should go out of Madina and fight against Quraysh. It was Hamzah, who protected the Prophet in Makkah during the delicate moments with all his might. Hamzah accepted Islam in the fifth year of the Proclamation. May God be pleased with him, and bless him.
He was the same senior and valiant officer who killed the brave champion of Quraysh Shaybah and others and also wounded a group of the enemies in the Battle of Badr – the first battle of Islam. He had no object in mind except to defend truth and virtue and to maintain freedom in the lives of human beings.
Hamzah had killed Utbah, the father of Hinda, in the battle of Badr. In the battle of Uhud, she slaked her thirst for vengeance which had given her no rest since the battle of Badr.
Hinda, the wife of Abu Sufyan and the mother of Muawiya, nursed a grudge against Hamzah and was determined to take her father's revenge on the Muslims at any cost.
Wahshi, an Ethiopian warrior, was the slave of Jabir Mut'am and an uncle of Jibir had also been killed in the Battle of Badr. He (Wahshi) had been appointed by Hinda to help achieve her object by hook or by crook. She asked him to kill one of the three persons (viz. the Prophet, Imam Ali or Hamzah) so that she might avenge her father's death. The Ethiopian warrior said in reply: "I cannot approach Muhammad at all, because his companions are nearer to him than anyone else. Ali too is extraordinarily vigilant in the battlefield. However, Hamzah is so furious that, while fighting, he does not pay any attention to any other side and it is possible that I may be able to make him fall by some trick or by taking him unawares". Hinda was contented with this and promised that if he was successful in performing the job she would set him free. Some believe that Jibir made this promise with his slave (Wahshi) as his (Jibir's) uncle had been killed in the Battle of Badr.
Wahshi, the slave, says: "On the Day of Uhud I was pursuing Hamzah. He was attacking the centre of the army like a ferocious lion. He killed every one whom he could approach. I hid myself behind the trees and stones, so that he could not see me. He was too busy in fighting. I came out of ambush. Being an Ethiopian, I used to throw my weapon like them (i.e. like the Ethiopians) and it seldom missed the target. I, therefore, threw my javelin towards him from a specific distance after moving it in a particular manner. The weapon fell on his flank and came out from between his two legs. He wanted to attack me but severe pain prevented him from doing so. He remained in the same condition till his soul departed from his body. Then I approached him very carefully and having taken out my weapon from his body returned to the army of Quraysh and waited for my freedom.
In the battle of Uhud the Muslims were defeated. After their rout, Hinda and the other harpies she had brought with her from Makka, mutilated the bodies of the slain Muslims. Hinda cut open Hamzah's abdomen, plucked out his liver and chewed it up. Muhammad ibn Umar Waqidi, the historian, says that she made a fire in the battlefield, roasted Hamzah's heart and liver and ate them. Not satisfied with this, she cut the limbs, the ears and the nose of Hamzah, strung them into a "necklace," and entered Makka wearing it as a "trophy" of victory.
Muhammed Mustafa, the Apostle of God, was deeply aggrieved at the death and at the mutilation of the body of such a stalwart of Islam as Hamzah. He bestowed upon him the titles of the "Lion of God," and the "Chief of the Martyrs."
After the Battle of Uhud, I continued to live in Makkah for quite a long time until the Muslims conquered Makkah. I then ran away to Ta'if, but soon Islam reach that area as well. I heard that however grave the crime of a person might be, the Prophet forgave him. I, therefore, reached the Prophet with Shahadatayn on my lips (i.e., I testify that there is no god but Allah and I also testify that Muhammad is His Prophet). The Prophet saw me and said "Are you the same Wahshi, an Ethiopian?" I replied in the affirmative. Thereupon he said: "How did you kill Hamzah?" I gave an account of the matter. The Prophet was moved and said: "I should not see your face until you are alive, because the heart-rending calamity fell upon my uncle at your hands".
It was the same great spirit of the Prophet of Islam which made him set this man free although he could execute him on many grounds.
Wahshi says: "So long as the Prophet was alive I kept myself hidden from him. After his death the battle with Musaylimah Kazzab took place. I joined the army of Islam and used the same weapon against Musaylimah and succeeded in killing him with the help of one of the Ansar. If I killed the best of men (i.e. Hamzah) with this weapon, the worst man, too, did not escape its horror".
The participation of Wahshi in the battle against Musaylimah is something which he himself claims, but lbn Hisham says: "During the last days of his life Wahshi was like a black crow who was always hated by Muslims on account of his being a drunkard and was punished twice on account of drinking wine. On account of his indecent actions his name was struck off the army records and Umar bin Khattab used to say: "The murderer of Hamzah does not deserve to be pardoned in the other world."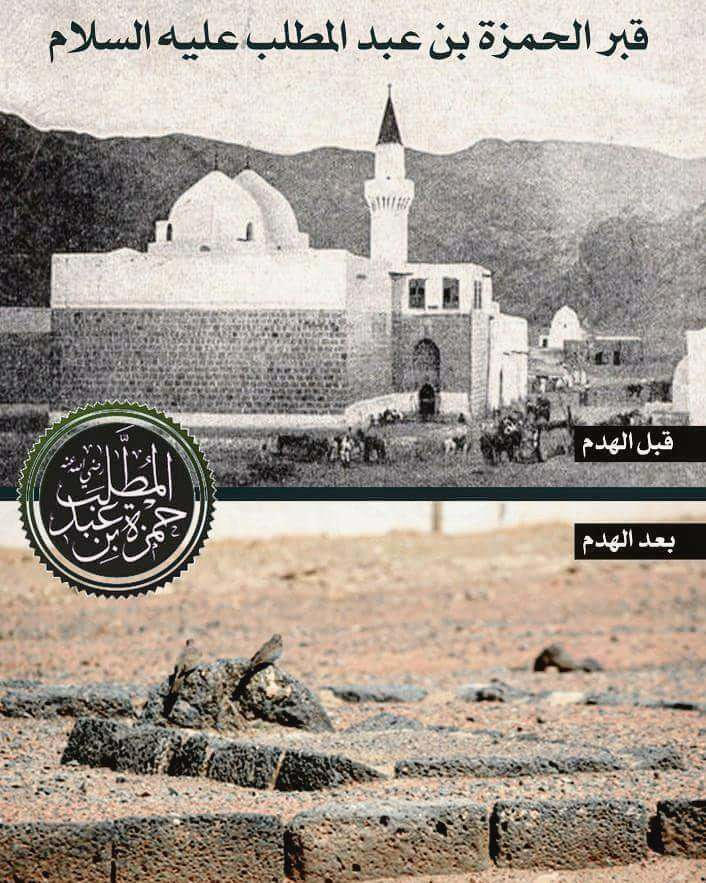 Hazrat Ameer Hamza ibn Abdul Muttalib radiy-Allāhu ta'ala anhu :
♦♦♦♦♦♦♦♦♦♦♦♦♦♦♦♦♦♦♦♦♦♦
Alqaab :
‾‾‾‾‾‾‾‾
Asad-ur-Rasool, Sayyed-ush-Shohada.
**********
Aap ki wilaadat 567 A.D. me Makka me hui.
Aap ke waalid ka naam Hazrat Abdul Muttalib ibn Haashim aur waalida ka naam Haala bint Uhayb hai.
Aap Quraish ke Banu Haashim qabeele se ta'alluq rakhte hain.
Aap Huzoore akram Rasool-Allāh sallallāhu alaihi wa sallam ke Chacha aur Ahle bait hain.
**********
3 Nabawi (616 A.D.) me ek baar shikaar se waapas aaye to Abdullāh bin Jad'aan ki baandi se Aap ko pata chala ki Abu Jahl ne safa ki pahaadi ke qareeb Huzoor Rasool-Allāh sallallāhu alaihi wa sallam ko bahot bura bhala kaha hai aur phir un par patthar se hamla kiya hai.
Aap use talaash karte hue Ka'aba me pahunche. Abu Jahl apne saathiyo ke saath waha baitha tha. Aap ne kaha 'Tum ne Muhammad (sallallāhu alaihi wa sallam) ko takleef di hai. Ab main us ka badla lunga.' Ye kehkar Aap ne us ke sar par waar kiya, jis se wo jakhmi ho gaya.
Phir Aap ne Daar-al-Arqaam me Huzoor sallallāhu alaihi wa sallam ke paas aakar ye sab bataaya.
Huzoor sallallāhu alaihi wa sallam ne farmaaya ke 'Aye mere chacha! Agar aap Islaam apna len, to mujhe sab se zyada khushi hogi.'
Aap foran kalma padhkar eimaan laaye.
Aap as-Saabiqoon al-Awwaloon me saamil hain.
Phir aap Ka'aba shareef par gaye aur Quraish ke saamne Huzoor sallallāhu alaihi wa sallam ki shaan wa ehsaanaat bayaan karte hue taqreer farmai.
Aap bahot bahaadur the.
Aap ke musalman hone se Islaam ko nai taaqat mili.
*************
1 Hijri (622 A.D.) me Aap hijrat karke Madeena aa gaye.
Yaha Aap Masjid ki taameer ke kaam me madad karte rahe.
**********
Hijrat ke 7 mahine baad Huzoor sallallāhu alaihi wa sallam ke farmaan par aap 30-40 musalmano ke giroh ke saath Juhayna ilaaqe me al-Is ke samundar ke kinaare par Abu Jahl ki sardaari me Shaam se aa rahe 300 Kaafiro ke giroh ka muqaabala karne ke liye pahunche. Magar Majdi bin Amr al-Juhani ke samjhaane par dono giroh ne jung nahi ki. Aur Hazrate Hamza musalmano ko lekar Madeena waapas aaye.
**********
17 Ramazaan 2 Hijri (13 March 624 A.D.) ko Jange Badr me Huzoor sallallāhu alaihi wa sallam ne Hazrate Hamza, Hazrate Ali ibn Abu Taalib aur Ubaida ibne Haariṡ radiy-Allahu ta'ala anhuma ko Makka ke kaafiro ke muqaabale me bheja.
Hazrate Hamza ne Shaiba ko qatl kiya aur Ubaida ke jakhmi hone ke baad Utba ko bhi qatl kiya.
Aur phir jab jung shuru hui to kai kaafiro ko qatl kiya.
**********
Is ke baad 10 Shawwaal 2 Hijri (624 A.D.) ko Madeena me Banu Qaynuqa ke khilaaf jung me bhi saamil hue.
**********
3 Hijri me Jung e Uhad se pehle Huzoor Rasool-Allāh sallallāhu alaihi wa sallam ne taqreeban 30 tirandaaj ashaba ko ek pahaadi par theharkar nigraani karne ke liye farmaya aur farmaaya ke 'Haalat kaise bhi ho chahe fateh mile ya nakaami, jab tak mera hukm na ho tum log yaha se hanta nahi.'
Jab jang shuru hui aur kuchh waqt baad kuffaar musalmano ka muqaabala na kar sake aur maidaan chhodkar bhaagne lage tab pahaadi par thehre hue un ashaaba ne socha ke ab to musalmano ko fateh milne wali hai. Is liye hume bhi neeche aa jaana chaahiye. Hazrat Abdullāh bin Zubair radiy-Allāhu ta'ala anhu ne unhe bahot roka aur kaha 'Jab tak Huzoor Rasool-Allāh sallallāhu alaihi wa sallam ka hukm na ho hume neeche nahi jaana chaahiye.' Magar wo nahi maane aur pahaadi par se neeche aa gaye.
Kaafiro ke sardaar Khaalid bin Waleed ne jab mauqa dekha to apne ghud-sawaar saathiyo ke saath musalmano par peeche se hamla kiya. Aur baazi palat gai aur Musalmano ko apni hifaazat ke liye bhaagna pada.
Hazrate Hamza radiy-Allāhu ta'ala anhu, Hazrat Ali, Hazrate Sa'ad bin Abi Waqqaas, Hazrate Talha bin Ubaidullāh, Hazrate Abu Duzaana, Hazrate Abu Talha, Hazrate Qataadah bin Nomaan Ansaari aur deegar ashaaba radiy-Allāhu ta'ala anhuma ne bahot bahaaduri se kaafiro ka muqaabala kiya aur Huzoor Rasool-Allāh sallallāhu alaihi wa sallam ki hifaazat ki.
Hazrate Hamza ne bahot bahaduri se ladte hue dono haath me talwaar ke saath kaafiro ka muqaabala karte rahe aur kisi ko aage aane nahi diya. Aap ne 31 kaafiro ko waasile jahannam kiya.
Jubair ibn Mut'im ne apne chacha Tuwayma ibn Adiy ki maut ka badla lene ke liye Wahshi ibn Harb naam ke ghulam ko tayyar kiya tha. Us ghulaam ne aap ko shaheed kar diya. Aur Hind bint Utbah ne apne baap ki maut ka badla lene ke liye aap ke naak, kaan, haath kaate aur aap ka kaleja nikaalkar chabaaya.
Huzoor Rasool-Allāh sallallāhu alaihi wa sallam ne aap ki laash ko talaash karke pehchana aur aap ko 'Sayyed ush Shoahda' aur 'Asadul ur Rasool' ke alqaab ata farmaaye ya'ni 'Tamaam shohada ke sardaar' aur 'Rasool-Allāh ka Sher'.
♦ Is jung me Utbah bin Abi Waqqaas ne patthar phenkar Huzoor Rasool-Allāh sallallāhu alaihi wa sallam ke dandaane mubarak shaheed kiye the.
♦ Is jung se pehle Abdullāh bin Ummi apne 300 munaafiq saathiyo ke saath alag ho gaya tha.
**********
Aap ki shahaadat 15 Shawwaal 3 Hijri (19 March 625 A.D.) ko Shanichar ke roz hui.
**********
Huzoor Rasool-Allāh sallallāhu alaihi wa sallam har saal Shohada e Uhad ki mazaar par tashreef le jaate aur waha farmate 'Tum par salaam ho kyun ki tum ne sabr kiya. Tumhara akhirat ka ghar kaisa achha hai.'
Isi tarah Hazrat Abu Bakr Siddeeq, Hazrat Umar Faarooq, Hazrat Usmaan Ghani aur Hazrat Ali radiy-Allāhu ta'ala anhuma bhi har saal Shohada e Uhad ke mazaar e mubarak ki ziyarat karte the.'
Huzoor Rasool-Allāh sallallāhu alaihi wa sallam ne irshaad farmaaya hai :
(1) Shohada e Uhad ke mazaar par jaakar Salaam pesh kiya karo ke jo bhi aisa karega Qayaamat tak un ke Salaam ka jawaab paayega.
(2) Jin ki dua qubool hone me der hoti ho unhe chaahiye ke Hazrate Hamza ke waseele se dua karen, In sha Allāh zaroor qubool hogi.
**********
Aap ki 3 biwiya aur 3 bete aur 3 betiya hain.
(1) Salma bint Umays se
1 beti : Umaama bint Hamza;
(2) Binte Milla ibn Malik al-Awsi se
1 beta : Aamir;
(3) Khawla bint Qays al-Najjari se
2 bete : Yaala aur Umara;
2 betiya : Jin ka bachpan me hi inteqaal ho gaya.
**********
Junge Uhad me Hazrate Ameer Hamza radiy-Allāhu ta'ala anhu aur 69 dusre ashaaba shaheed hue. Shohada e Uhad ko Jable Uhad par dafn kiya gaya. Aur chand shohada ko Jannatul Baqi me dafn kiye gaye.
46 saal ke baad ek baar nehar ka paani un ki qabro me jaane se nuqsaan hone ka andesha tha tab Baadshaah ne mashwara karke ye tay kiya ke Shohada ko qabro se nikaalkar dusri salaamat jagah par dafn kiya jaaye.
Jab Shohada e Uhad ki qabro ko khola gaya to pata chala ke tamaam shohada ke jism aur kafan usi tarah mehfooz the aur un ke jakhmo se khoon jaari tha aur shohada ke haath un ke jakhm par the. Jab un ke haath ko sahi karne koshish ki gai to phir se un ke haath un ke jakhmo par waapas aa jata.
Phir unhe nai qabro me dafn kiya gaya. Ek qabr me Hazrate Hamza, Dusri do qabro me Abdullāh ibne Jabash aur Mus'ab ibne Umair aur dusre 63 ashaaba ko ek badi qabr me dafn kiya gaya.
Un Shohada ke Mazaar Jable Uhad par hain.
Hajj ya Umrah ke liye jaane wale jab Madeena shareef jaate hain tab un ke mazaar ki ziyarat ke liye jaate hain.
****************
ALLĀH ta'ala us ke Habeeb sallallāhu alaihi wa sallam ke sadqe me
Aur Hazrat Ameer Hamza ibn Abdul Muttalib radiy-Allāhu ta'ala anhu aur Ahle bait aur Ashaaba aur tamaam Shohada ke waseele se
Sab ko mukammal ishq e Rasool ata farmae aur Sab ke Eimaan ki hifaazat farmae aur Sab ko nek amal karne ki taufiq ata farmae.
Aur Sab ko dunya wa aakhirat me kaamyaabi ata farmae aur Sab ki nek jaa'iz muraado ko puri farmae.
Aameen.
Jab HAZRAT SAYYADNA HAMZA رضي الله عنه ki shahadat huyi to REHMATAL LIL AALAMEEN ﷺ ne shaded ranj o malaal ka izhaar farmaya aur nihayat ghamgeen hogaye yahaan tak k aapki chashmaan e muqaddas se aansu rawaan hogaye
Aur jab HUZOOR NABI KAREEM ﷺ ne SHOHADA E UHUD ki namaz e janaza padhayi to har shaheed ki namaz e janaza k saath SAYYADNA AMEER HAMZA رضي الله عنه ki namaz e janazah bhi padhayi, is lehaaz se aapko ye aezaaz o imtiyaaz haasil hai k 70 martaba aapki namaz e janaza ada ki gayi.
Chunaanche SHARAH MUSNAD E ABU HANIFA, ZAKHAER UQBA aur SEERAT HALBIYA mein riwayat hai
HAZRAT IBNE SHAZAAN رحمة الله عليه ne HAZRAT ABDULLAH BIN MASOOD رضي الله عنه ki riwayat bayaan ki hai k humne HUZOOR NABI KAREEM ﷺ ko kabhi itna ashk baar nahi dekha jitna k aap HAZRAT HAMZA رضي الله عنه ki shahadat per ashkbaar huye
Aap ﷺ ne unhey qible ki jaanib rakha, phir aap janaze k saamne qiyaam farma huye, aap is qadar ashkbaar huye k siskiyaan bhi lene lage, qareeb tha k ranjeedgi k sabab aap per behoshi taari hojaaye
Aap ye farmate jaate, aye HAMZA! Aye RASOOL ﷺ k chacha, AYE RASOOL E AKRAM ﷺ k sher, aye hamza! Nekiyon ko anjaam dene waale, aye hamza! Aye musibaton ko dur karne waale, aye hamza! Aye RASOOL E AKRAM ﷺ ki jaanib se difaa karne waale, HUZOOR NABI KAREEM ﷺ jab namaz e janazah ada farmate to 4 martaba takbeer farmate aur aapne HAZRAT HAMZA رضي الله عنه ki 70 martaba takbeer k saath namaz e janazah ada farmayi.
IMAM BAGHWI ne is riwayat ko apni MUAJJAM mein naqal kiya hai.
(Sharah Musnad e Abu Hanifa, Jild 1, Page 526)
(Zakhaer ul Uqba, Jild 1, Page 176)
(Al Seerat ul Halbiya, Jild 4, Page 153)
(Al Mawahib lil Duniya Maa Sharah al Zarqaani)